Custom Software
We can develop your solutions in any language that you specify. Whether it is a stand alone application, client server, or webservices we can do it all!

Computer Dude Software's capabilities are extremely broad and vast. Automation solutions are designed to maximize the most from technology to benefit you.
If you have a problem and can't seem to find a solution, or just want your own software that was made for YOU, we are the company you need to talk to. Our software solutions range from utilities to full scale automated solutions and workflows. We can radically change the way you operate and streamline your current activities.
Here are some samples of programs we have created:
Time Clock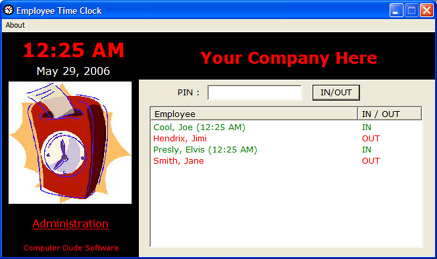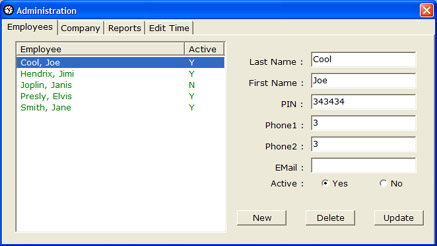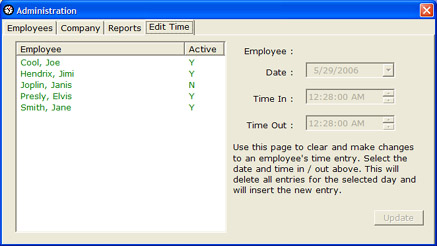 Time clock is a software program that replaces the traditional time card clock. Employees simply enter a pin/password and it toggles them in or out. The administrative section is password protected of course. Administrators can add/edit/delete users, print reports, set company information, and override time entries.
Automotive Invoicing Software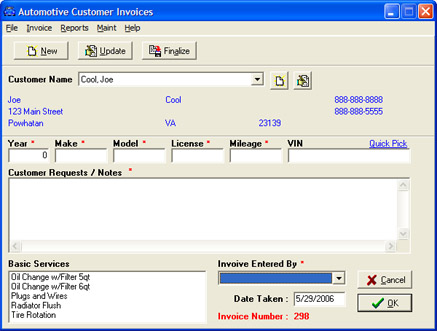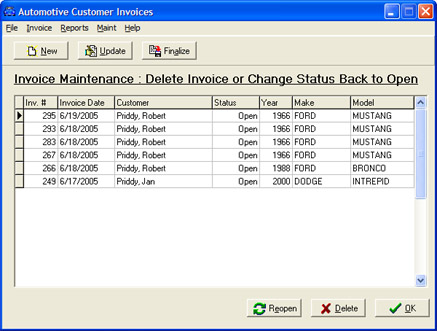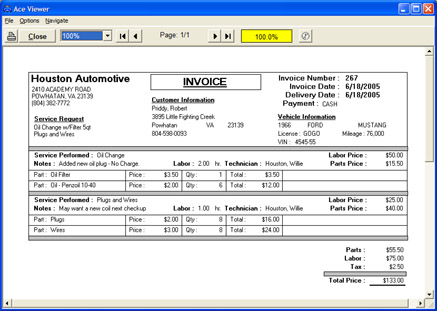 Automotive repair shop invoice software. Tracks and prints invoices, customer lists, and work orders. Written to be a simple replacement to the manual / paper route. Also allows an administrator to print hours worked per employee. Has tax table and calculates total amount due for each work order.
Tool Library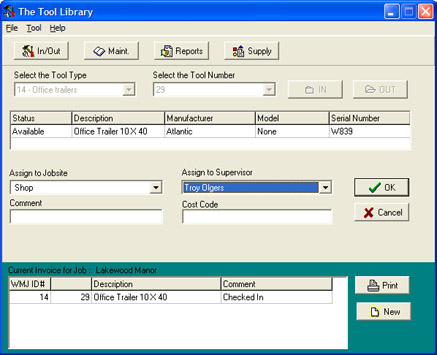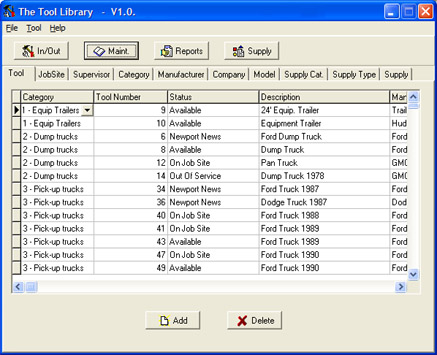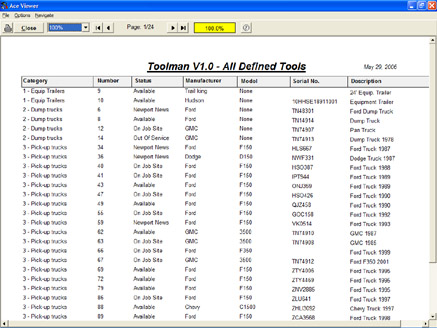 Program used to track where tools are located per job site. Tools are checked out of the tool shop to a person and jobsite, and then checked back in once they are no longer needed on that job site. The philosophy is similar to a library book. Prior to this program, the company could only account for about 20% of the tools owned. Many were missing or stolen, and some were never even recorded. After implementing this program, the company now has over a 98% accuracy and accountability for each tool. The administrative section contains maintenance and reporting. Various reports can be generated as needed.
DB Compare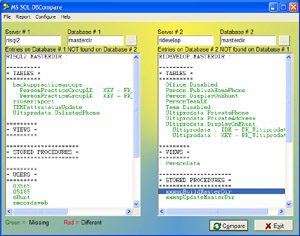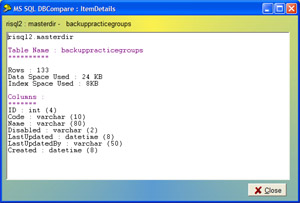 MS SQL DBCompare was written as a small program that allows developers to compare the schema of two databases and report the differences. The objects the utility compares are :
Tables, Views, Columns, Indexes, Keys, Triggers, Stored Procedures, and Users. For Stored Procedures and Triggers, the SQL Text is also compared. Double click an item to get detailed information about that item. In addition to displaying the differences between the two databases, the utility will list the total number of objects in each database for: Tables, Views, Columns, Indexes, Keys, Triggers, Stored Procedures, and Users.
Duplicate File Finder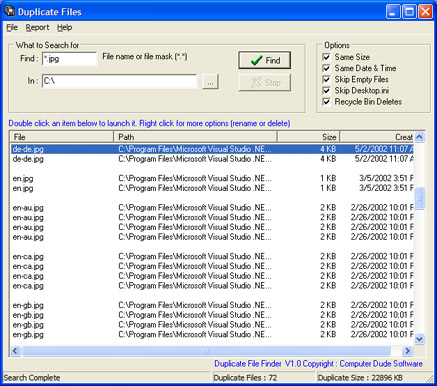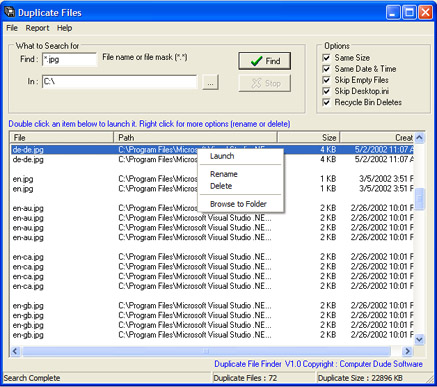 Duplicate file finder finds multiple copies of the same files on your hard drive. It has configurable parameters to help limit what is found. Easily launch the files or rename and delete them. This can help you clean up your hard drive by eliminating the duplicates.
Free Space Zapper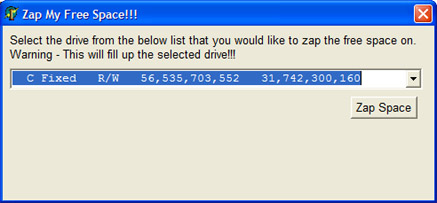 This small utility is used to rewrite over the free space on your hard drive. This helps eliminate the ability to recover deleted files. Commonly referred to as a shredder program.
IP Resolver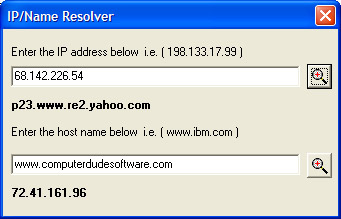 Utility that resolves domain names to ip addresses and ip addresses to domain names. Short cuts the need to do a DOS ping.
JPEG Resizer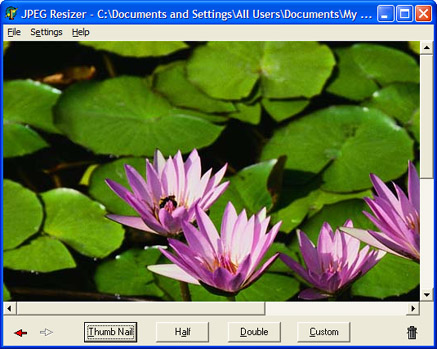 Program used to easily resize images and maintain aspect ration. Has quick links to half/double and browse images. Configurable settings are fill color and thumbnail sizes. The program can be used to resize all image files in a directory with a single click. The original images are not altered.
MAC Retrieval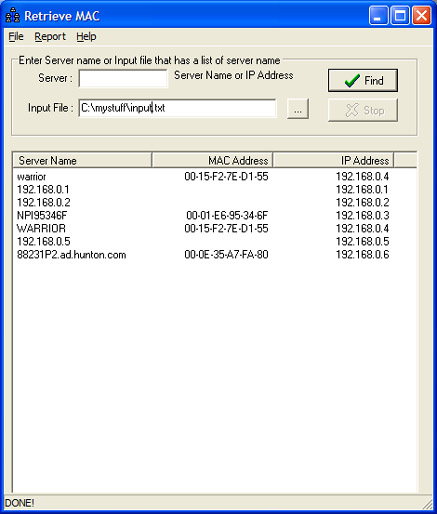 Network utility that returns network adapter information given an input file or server name. When using an input file, multiple items can be reported on. This makes it easy to find all MAC addresses and IP Addresses for an entire network.
Net Space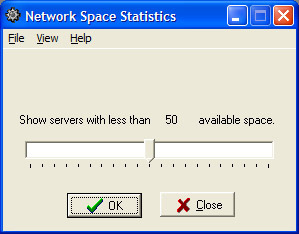 Network utility that returns all computers on the network that have less than the specified percentage of free space. This utility helps with data center capacity planning.
Random Password Generator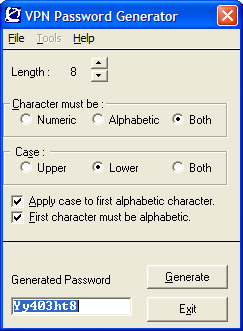 Very small and simple random password generator utility. You specify the length, alphanumeric options, and case.
Source Code Line Counter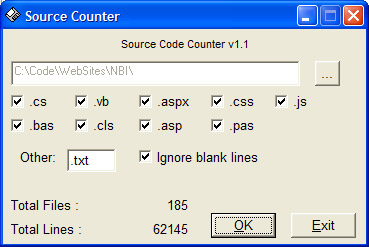 Utility to calculate the total lines of code for developers. This can be a real eye opener for managers as well. You select standard extensions,as well as custom defined files. You also have the ability to ignore blank lines. Not a complex program by any means, but a very handy utility.